Top-Rated Microsoft .NET Development Company in India
Are you looking for a Microsoft .NET development company that can deliver secure, scalable, and robust digital solutions on the .NET platform? If so, then MEPA OUTSOURCING is worth considering. We are one of the most trusted Microsoft .NET development companies having a team of experienced developers and designers. Our team has hands-on experience in using other associated technologies such as .NET, ASP.NET, and MVC frameworks in conjunction with the C# programming language. 
Whether you need a website, a mobile app, custom software, or a desktop application, our team holds proficiency in creating blazing fast solutions that guarantee increased productivity. Hire Microsoft .NET developers from the best ASP.NET development company in India – MEPA OUTSOURCING 
What type of Microsoft .NET development services do you offer?
We have more than a decade of experience in creating enterprise-level.net solutions for our clients belonging to different domains and industries. Before developing a solution, we take time to understand and analyze the client's requirements, business objectives, and targeted audiences so that we end up building the desired solution. We offer Microsoft .NET development services such as: 
We can create custom. NET-based web applications for start-ups to large enterprises. Get in touch with us for a highly functional, robust, scalable, and secure web app. 
We are one of the best Microsoft ASP.NET development companies, and we have built numerous Universal Windows Platforms apps featuring high scalability, availability, security, and performance.
.NET Enterprise Solutions
With the help of professional ASP.NET development services in India, we can create and manage business-centric, cloud-based, and SaaS-based applications that flawlessly interact with other business solutions in an organization.
Why Choose Microsoft .NET Development from India?
We are among the top-rated Microsoft .NET development company in India because we have a team of .NET developers, designers, and QA specialists who focus on delivering the finest .NET solutions and services to our respected clients. If you are looking for out-of-the-box digital solutions based on .NET, then get in touch with our team today. However, below are a few reasons to choose us for Microsoft .NET development in India. 
Whether you want an eCommerce website, a blogging website, or a CMS portal, we have a team delivering solutions that are unique and suit your business objectives. Hire a highly qualified, groomed & talented pool of qualified Microsoft .NET developers at the best price. 
FAQ – Best Microsoft .NET Development Company
If you have already have a vision with what you want to achieve, our Fixed Cost Business Model is best for you.
Here, we will analyze your requirement, and prepare a detailed feature list document. This once confirmed we will present you with a fixed cost for the project.
Advantages
Fixed price for the project.
Advantage of having a pool of resources with expertise on various domains such as Development, Design, QA, etc.; all working for your project.
Dedicated Project Manager / Team Leader.
Round-the-clock support via emails.
Your ownership on the source code.
Cost effective approach to that of the Hourly based model.
This model works well if you want to develop a certain functionality / feature on any existing project.
Here, based on the technical analysis we will present you approx. hours to complete the task.
Advantages
You pay only for the hours used.
Dedicated Sr. level resource will work on the given task.
Regular updates of the task completed.
Round-the-clock support via emails.
Your ownership on the source code.
Need someone to develop an API or perhaps an integration of complex business logic, where a dedicated skillset might be required? – then this model is right for you.
Here you can hire our dedicated developer / programmer who will work for solely for your project.
Advantages
Dedicated Senior, Junior or Intermediate level resource(s) working solely on your project.
Advantage of having a dedicated Resource(s) will work 8 hours a day / 5 days a week / 160 hours a month.
Daily / Weekly reporting.
Round-the-clock support via emails.
Your ownership on the source code.
Team with 8+ years of experience and expertise working with global clients.
Round-the-clock support
Quick responses
Intellectual property protection
Confidentiality
Save up to 60% on cost
LATEST NEWS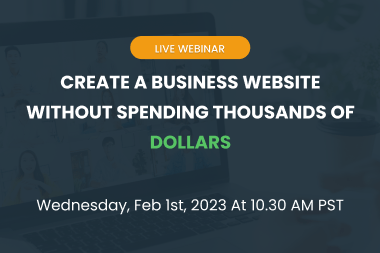 Attend our Free Webinar on Affordable Business Website Development Dear Business Owners, 1. Do you have a phobia that website development is an expensive deal?...
Read More